Difficulty Level: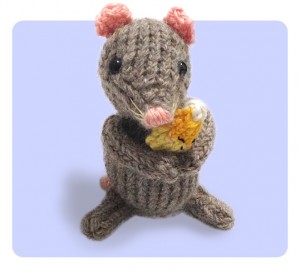 Skills Required:
CO: Cast On
DPN: Double Pointed Needles
K: Knit
K2tog: Knit 2 stitches as 1 together
Finished Size: approx 2.5cm tall x 1.5cm width x 1.3cm depth (Please note that this size is made with the needles & yarn specified below, different yarns and needles size will produce different results)
*Important* due to its tiny size this candy corn alone is not suitable for children under 3yo. If you are making it with the mouse, please ensure you stitch them together very tight so they will not separate when pulled.
Needles: US 0 – 2.0 mm
Yarn:
Body Yellow — Panda Cotton Blend 8ply in 6 Yellow (dye lot #120501)
Body Orange — Lincraft Double Knitting Yarn (dye lot #1189)
Body White — Panda Cotton Blend 8ply in 1 White (dye lot #12001 )
Facial Features:
black sewing thread for eyes and mouth & pink sewing thread for cheek
So, here comes the tiny candy corn, yet another free Halloween knitting pattern! This super cute free knitting pattern is designed by Anna Hrachovec, and you can find it here.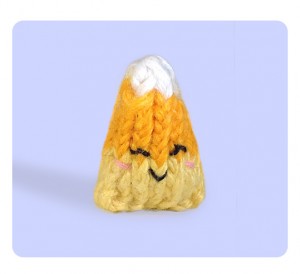 This pattern is easy to make (I would've put it down as very easy if not for the requirement to knit with DPN). There is nothing tricky about this pattern other than the tiny size itself. It's my first time knitting with size 0 needle and it's quite challenging in a very fun way :). I've used a grey sewing thread to join my knitted mouse hand together — it's just a light stitch so I can cut the thread off anytime later.
Throughout the whole knitting process, the trickiest row I find will be the last 2 stitches on row 9 as you have to knit 2 stitches together in a very tight space.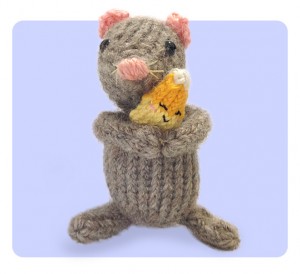 I think i spent most of my time stuck trying to do the k2tog 😉 The pattern is very fast to knit otherwise, totaling only 10 rows to complete! Another notable thing, when you are knitting the candy corn, be sure to secure your yarn early as you progresses. The candy corn is sooo tiny and turning it over was almost impossible near the end. But all in all, this candy corn is just too cute to resist (and I think my Marisol feels the same!) ♥
Happy Knitting!