Difficulty Level: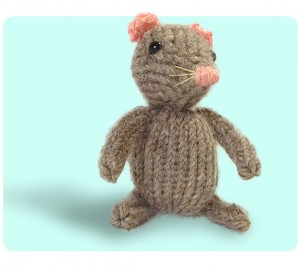 Skills Required:
CO: Cast On
DPN: Double pointed needles
K: Knit
P: Purl
Sl1, K2tog, Psso: Slip 1 stitch, Knit 2 stitches together as 1, Pass slipped stitch over
Kfb: Knit front and then back
K2tog: Knit 2 stitches as 1 together
i-Cord: Knitting i-Cord with DPN
Finished Size: approx. 9cm tall (sitting down) x 6cm depth x 5.5cm wide (or 10cm wide with arms stretch out) (Please note that this size is made with the needles & yarn specified below, different yarns and needles size will produce different results)
Needles: US 3 – 3.25 mm
Yarn:
Body — Cleckheaton Perfect Day 8 ply in 1003 (dye lot #775486)
Ears, Nose & Tail — Patons Australia Zest 8 Ply in 3707 (dye lot #33674)
Facial Features:
pastel yellow thread for whiskers & 6mm black safety eyes (*important* embroidery eyes instead if you are making this for a child under 3yo)
Marisol the Knitted Mouse is a cute free knitting pattern designed by Rachel Borello. You can find the free pattern here.

The mouse is super adorable and also easy to make. For my mouse, I've added yellow whiskers embroidery using fine sewing thread. I've also knitted his arms slightly longer as I have a big plan coming up for him in the upcoming Halloween! sshhhh… I can't tell you what it is yet as I want it to be a suprise! 🙂
As for the trickiest knitting techniques in the pattern, I have covered below two video tutorials on (Sl1, K2tog, Psso) & knitting i-Cord. If you don't know what Kfb is, you can check out the video on my tiny chicken post.
Tutorials: How to Knit Sl1, K2tog, Psso
Tutorials: How to Knit i-Cord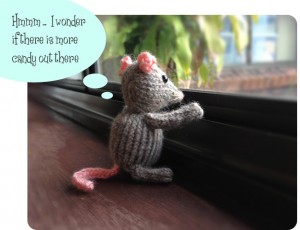 That's it! I hope these video will help you in knitting your own mouse. Until next time.. ♥