Difficulty Level: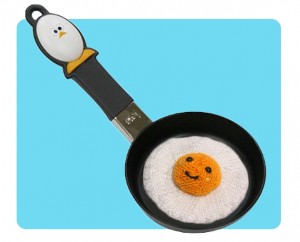 Skills Required:
CO: Cast On
K: Knit
DPN: Double Pointed Needles (the ability to knit in the round)
M1: Make 1 stitch
K2tog: Knit 2 stitches as 1 together
Yo: Yarn over
BO: Bind Off
Finished Size: approx 9cm diameter. 2.5cm tall (Please note that this size is made with the needles & yarn specified below, different yarns and needles size will produce different results)
Needles: US 3 – 3.25 mm
Yarn:
Egg White — Panda Cotton Blend 8ply in 1 White (dye lot #12001)
Yolk — Lincraft Double Knitting Yarn (dye lot #1189)
Facial Features:
6mm black safety eyes, little scrap of black yarn for mouth & little scrap of yellow yarn for cheek blush
So after I finished knitting the Tiny Chicken , I thought that hey what could be better to accompany it than a cute egg. Well, instead of a normal round shaped egg, why not a fried one? This is where this cute fried egg knitting pattern comes in. Designed by Ala & Ela, you can download the free pattern HERE.
I don't remember where I read it from, but apparently someone knitted this very same fried egg pattern in just 12 minutes! I cannot imagine how fast her/his hands has to move to knit it up so quickly! (Well I certainly for one took much longer than that). I found this pattern quite tricky yet very intricate — the egg white uses both M1 and Yo, both are different type of knit increase technique to produce interestingly beautiful pattern to the finished knit work.
I previously cover the M1 knit tutorials in Oink pattern, as for the Yo technique you can find it below. This video has helped me understand the YO technique and I hope this will help you too 🙂
Tutorials: How to knit (Yo) Yarn Over
Pattern modification:
I modified the yolk knitting pattern slightly. Right after you join, I knit 3 rows instead of  8 rows. Then, when making up, I reverse the side so that the wrong side is on the outside as the shape curls up automatically and created this circular look. After sewing it onto the egg white halfway, I began making the face embroidery. I personally used 6mm black safety eyes, if you want it to be baby safe please embroidery the eyes instead. I constantly debated whether to give it a pink or yellow blush, in the end I go with the yellow one. What do you think? Do you like the pink or yellow better? 🙂
Happy Knitting! ♥