Difficulty Level: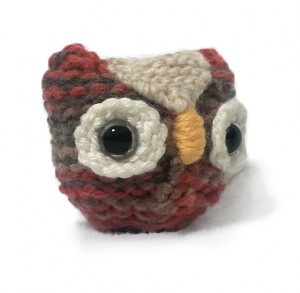 Skills Required:
CO: Cast On
K: Knit
P: Purl
K2tog: Knit 2 stitches together
Garter stitch: Knit all rows
BO: Bind Off
Finished Size: approx 6.5cm wide x 6.5cm tall x 6cm depth
Needles: US 8 – 5.0 mm (body) & US 6 – 4.0 mm (everything else)
Yarn:
Body & Tail — Katia Sherpa Plus in 3307 (dye lot #85470)
Head Piece — Cleckheaton Country 8 Ply in 0019 Cream
Eye Patch — Panda Cotton blend in 3 Cream (dye lot #120602)
Facial Features:
12mm black eyes (for baby safe, use embroidery instead) & yellow scrap of yarn for beak
Finally a super easy and free knitting pattern designed by Raynor! I stumbled across this owl from Knitted Toy Box, you can find it HERE. Knitting this little toy was a joy, it was really easy to make that I decided to add extra eye patch, beak and tails. I started knitting the body with 5mm needles then used smaller needles for the rest of the details. If you want to give it a go, I have attached the pattern modifications below: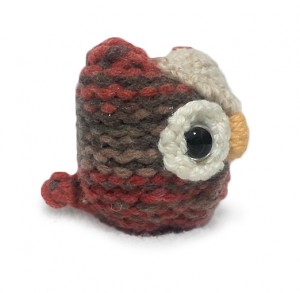 Eye Patch: (make 2)
CO 16 sts
BO
use a yarn needle, sew eye patch around 12mm black eyes.
Beak:
with yarn needle, wrap around to create nose. Secure yarn.
Tail: (make 3)
CO 4 sts
BO
with yarn needle, join tail side by side and attach to the back
Have fun knitting! ♥